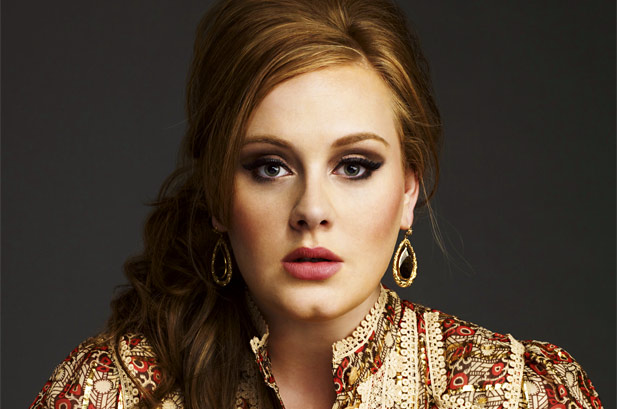 When we started this tradition last year, I mentioned that as New Years Eve starts to roll around, you're apt to see a number of "Best of 2011" music lists. I have no issue with these lists, and I think it's great to look back at the best new music of the past twelve months. But this sort of thing doesn't capture experience that most people have with music in a given year. In the past year, I discovered plenty of great music, some of it from 2011, some of it from decades ago, and everywhere in between. In that spirit, I present to you, in no particular order, the Top Ten Songs I Was Stuck on in 2011.
---
2011 was a fun, happy year for me, and that was reflected in my musical selections for this list. While there were certainly the usual intervals of serious or melancholy songs, they were well-balanced by the kind of music devoted to making you smile, making you laugh, or making you tap your feet.
1. Adele – Rolling in the Deep
"Throw your soul through every open door. Count your blessings to find what you look for. Turn my sorrow into treasured gold. You'll pay me back in kind and reap just what you sow."
The old school, soulful, riveting drive of this song absolutely blows me away every time. Adele has such a strong, powerful voice. She slides effortlessly from the smoky flavor of the first few lines into the raw force of the chorus. I dare you not to bob your head when Adele breaks into "we could have had it all." It's nigh impossible. The lyrics are straightforward, but perfectly tailored for the music and Adele's instrument. It's a song that's just made for toe-tapping, clapping, and grooving along to the music. I found it stuck in my head repeatedly as one of the finest songs of 2011.
2. Neil Young – Heart of Gold
"I've been in my mind. It's such a fine line that keeps me searching for a heart of gold."
I have to admit, my knowledge of Neil Young does not stretch much further beyond a couple of magazine articles and a few conversations with my dad. Still, I'm slowly but surely catching up and "Heart of Gold" is a hell of a primer. It has a number of ingredients that really play well in my book. A set of good acoustic guitar riffs, a little harmonica, a steady beat, and a set of earnest lyrics all go a long way. I know I'm thirty or forty years too late in noticing, but Neil Young has a voice like dry crackling wood that underscores the soft sincerity of his words and makes this song something truly worthwhile.
3. Turquoise Jeep – Why I Gotta Wait??
"She holding on my hand calling me a sweet fellow. Try to get the green light but I keep getting yellow"
It's embarrassing, but difficult, to pick just one of this group's songs to make this list. There's just something about Turquoise Jeep. With their hilariously unsubtle lyrics, screensaver-esque music videos, and various ostentatious group trademarks, I cannot decide whether they're trolling us all in outrageous style and good fun, or whether hip hop has gone so far afield that they're completely serious. It's probably a little of both, but whatever their true rationale, I am very pleased to be able to enjoy their refuge in audacity. When you listen to the songs, you may laugh, or scoff, or both, but a funny thing happens. You find yourself humming one of their little tunes, or nodding your head to one of their beats, or even finishing any sentence that starts "let me go grab" with "my belt." It's hard to say this is the best music I've ever heard, but it's also hard to say I wasn't stuck on Turquoise Jeep in 2011. Keep the Jeep Ridin'.
4. Third Eye Blind – Motorcycle Drive By
"And there's this burning, like there's always been. I've never been so alone and I've never been so alive."
Last year I added Third Eye Blind's "Jumper" to this list, as a late but enthusiastic attendee of the 3EB party. Well, my girlfriend loaned me a CD and said that if I enjoyed that song, I ought to listen to the whole album. Boy was she ever right. I may fifteen years behind, but I loved Third Eye Blind's 1997 self-titled album. Beyond the hits, almost every song on the album has something to recommend it, from the frantic urgency "Losing a Whole Year" to the slow-burning melancholy of "The Background." Even amidst this collection of gems, the album's penultimate song "Motorcycle Drive By" stood out. The intricately constructed dirge starts with a soft acoustic intro about want and regret before hitting the song's above-mentioned tagline. The song builds from there in the second verse that drips with the combination of attraction and frustration. The music swells in the pre-chorus when the drums and the distortion hit with full force and the song picks up in intensity. Finally, the songs dips back gradually and beautifully into the initial wistfulness. This is [3EB lead singer] at the peak of his rambling/rhyming musical predilections. A wonderful song from a wonderful album.
5. The Maine – I Wanna Love You
"Birds eye, I got a clear view You can't see me but I can see you."
I am a sucker for off-beat covers of rap and hip-hop songs. There's something about taking the swift rhythms and high-tempo lyricism of rap and listening as it's all translated into another style that grabs the listener and makes them appreciate both the original and the adaptation in a new light. In that vein, The Maine takes the jam-worthy "I Wanna Love You" and turns it into a legitimate punk rock song that would completely play as a fun bit of rock and roll even if you didn't know it was based on something by Akon and Snoop Dogg. They add a patently melodic quality to the song and do musical justice to the quick pace of the lyrics. There are few such covers that turn out as well as this. Definitely a song to rock out to while rolling down the highway.
6. Bright Eyes – Shell Games
"If I could change my mind, change the paradigm, repare myself for another life, forgive myself for the many times I was cruel to something helpless and weak."
I have to admit, I was not crazy about Bright Eyes' newest album, "The People's Key." It didn't have that same diverse musical pull and consistently deep lyricism that we've come to expect from Conor Oberst. Still, as usual, Oberst did produce at least a few gems, and "Shell Games" is chief among them. I'm not a big fan of the cheesy 80's style keyboards, but the rest of the instrumentation smacks of the usual skillful Bright Eyes melding of tones and styles. Moreover, the words convey the depth and thoughtfulness that Oberst brings to the table. The repeated line of "here it come, that heavy love" works perfectly as an oft-repeated refrain, and all-in-all this song feels the most like the Bright Eyes songs of old we've come to know and love.
7. Ben Gibbard – Carolina
"I leave today. I'm packing light: a suitcase some toiletries. The rolling hills and willow trees of Carolina wait for me."
This song became something of an anthem for my girlfriend and I (not for the bad parts) as we rolled off to Carolina to begin a new chapter in both of our lives. "Carolina" is the second track off of Ben Gibbard, the lead singer of Death Cab for Cutie's solo album "Home Volume V," and it's an enjoyable song about just that – taking a new step. The song is a simple one – really just a pair of acoustic guitars and some light harmonies that give the tune the feel of a classic folk song. As always, Ben Gibbard's voice shines with his hope tinged with plaintiveness. Especially good for road trips or other long travels, "Carolina" is, despite some slightly uncomfortable subject matter, an uplifting song that I listened to again and again in 2011.
8. Joe Walsh – Life's Been Good
"Lucky I'm sane after all I've been through. Everybody says I'm cool (He's cool.) I can't complain but sometimes I still do."
I'm not sure what I like most about this song. It could be the funky opening riff that draws you right into the song. It could be the way the song perfectly mixes an intro of both acoustic and electric guitar. It could be the hilarious and sardonic lyrics that manage to both celebrate and poke fun at both rock music and rock stars. It could be the way that Walsh manages to make a middle-aged white guy singing over a reggae-inspired rhythm work. Whatever it is, the song is fun musically, fun lyrically, and all-around a great piece of music to crunch on. It found its way to the top of my playlist repeatedly in 2011, and for good reason.
9. The Lonely Forest – I Blame Us
"But lust for the power, in hope that I could somehow, do something to benefit…benefit a greater good."
I had the pleasure of seeing The Lonely Forest open for Margot and Nuclear So-and-So's this year. I had never heard of the band prior to that evening, but they impressed me enough to prompt me to check them out. The only predominantly piano-based song on the list, "I Blame Us" is the band's impassioned condemnation of our culture of self-centeredness, designed distraction, and consumerism. When lead singer John Van Deusen belts out the title-phrase "I blame us" over some straight piano chords, it's a simple but powerful bit of decrying this state. It's a bit of a detour from the other, lighter songs that made their way into my regular rotation this year, but it's a quality song that's well worth your time.
10. Edward Sharpe & The Magnetic Zeros – Home
"Laugh until we think we'll die, barefoot on a summer night. Never could be sweeter than with you. And in the streets we're runnin' free like it's only you and me. Geeze, you're somethin' to see."
From the very first bit of whistling over a steady guitar and tambourine, you can tell this song is something else. Released in 2009, it feels like a song that would fit just as well in the 1960's being sung by Bob Dylan and Joan Baez rather than Alex Ebert and Jade Castrinos. That old school in the inflection of the two singers' voices gives the love song a certain quaint sweetness to it. To boot, the whistling, the trumpets, the piano, all come together to support every line and they're bolstered by a sort of communal campfire sense to the song as well. It's offbeat, creative, and fun with an classic sensibility that made it one of the best songs I was stuck on this year, and a chorus that was often on my lips in 2011.
Honorable Mentions:
1. They Might Be Giants – The Sun is a Mass of Incandescent Gas – Hard not to love the educational hilarity and talent of TMBG. This little ditty about the sun is particularly entertaining, with a catchy tune that was stuck in my head all summer. I would be remiss if I didn't mention that the band issued a musical correction song called, "The Sun is a Miasma of Incandescent Plasma" that's almost as good as their first take on the sun.
2. LMFAO – Everyday I'm Shufflin' – The lyrics are as pointless, shallow, and stupid as any in popular music right now, but damn if it isn't a catchy tune that I have to admit I've shuffled to more than a few times.
3. Cage the Elephant – Shake Me Down – Another great song that gets you bobbing your head. It's a little rougher than my usual fare, but I still found myself listening to it over and over again.
4. Florence and the Machine – Dog Days Are Over – Hard to keep this one off the list, but it's another great choice for rocking out. The various breakdowns and bursts into the chorus are executed perfectly and everything falls into place.
5. Steven Page – The Lion's Teeth – I love the Mountain Goats, I love creative covers, I enjoy Steven Page of "Barenaked Ladies" adventurousness, and I really enjoy a quality song being given the big band treatment. Thus, Steven Page's big band-style cover of this Mountain Goats song hit just the right spot.